I. INTRODUCTION
1.1. Research Background
Realistic visual effects made using three-dimensional (3D) computer graphic technologies play an important role in increasing the realism of films and animations. In the age of digital images, CG is highly recognized and even used as a measure of a country's technological prowess [1]. Traditional special effect generation methods have mostly been replaced with visual effects technologies [2] and the domain of which visual effects can be produced by computers has expanded [3]. Cutting-edge digital visual effects production technologies increase viewers' preference for films made using them [4].
According to CG visual production based on computer graphics development, all visual images can be expressed. [5]. The explosion and destruction of architectural structures in various scenes are some of the most frequently used visual effects. However, they are difficult to generate using computers and require significant technical abilities. As such, it can be difficult to make high-quality effects. Furthermore, equations and many parameter values are limited, so they are difficult to produce and take a long time to generate [6]. In the real world, explosions and destruction are naturally connected. However, these effects are produced separately and in different ways by 3D computer graphic technologies. Explosion effects are generated through fluid simulations in Fig. 1(a), and, destruction effects are created by simulating dynamics in Fig. 1(b).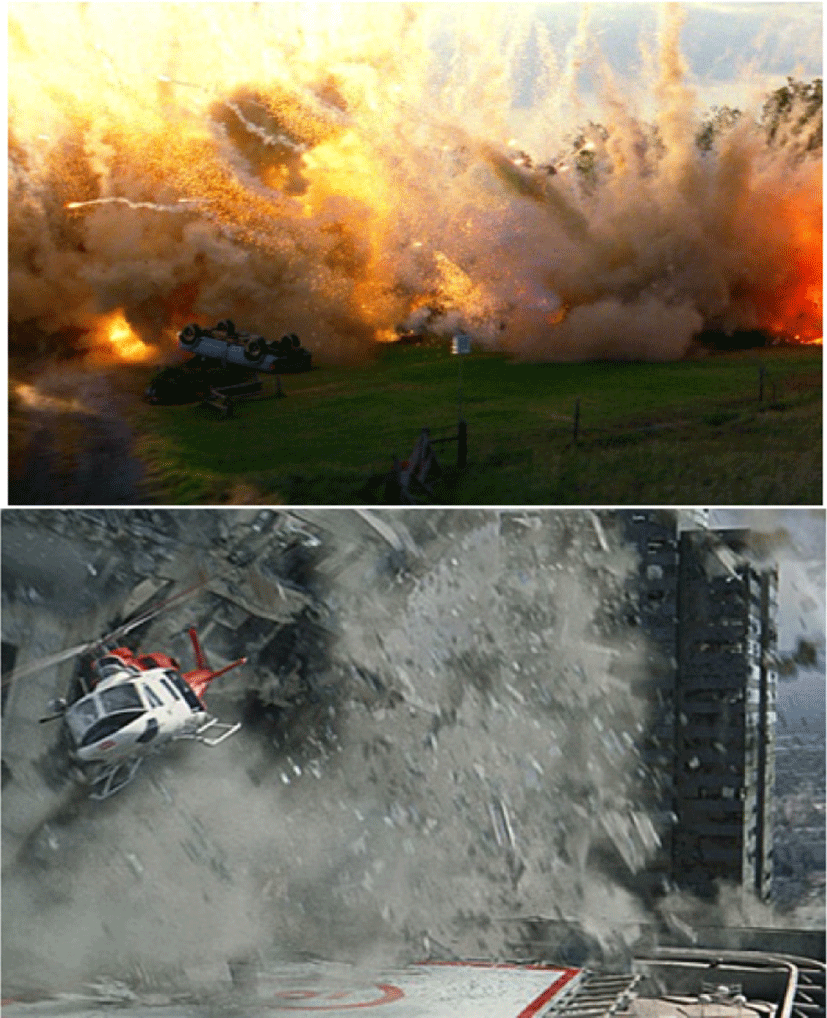 Download Original Figure
Explosions and destruction are created through different processes and so require a final process to combine them to make them look a unified, natural effect. This final process requires a high level of technical skill and expertise. The present study was conducted to test a new production process as a way of solution that is less time-consuming than existing processes that require producers to conducted through the repeated simulations.
1.2. Scope and Methodology
Computer-generated explosion and destruction effects are generated based on physical and chemical laws of nature. Explosions in the real world generate a large amount of heat and kinetic energy that affects the surrounding architectural structures and ground, causing some objects to crack and ultimately be destroyed. An accurate understanding of how this phenomenon occurs results in more realistic computer-generated visual effects [7]. In order to create realistic and high-quality effects, tremendous amount of capital, manpower, time, and technology is required. However, actual production often takes place within limited resources, so developing an efficient production method within limited resources is the most direct way to improve the completeness of the work [8]. The purpose of this study is to experiment with pipelines that embody explosion and destructional visual effects within limited capital, manpower and time.
This study was conducted to test a method for generating both explosion and destruction effects simultaneously that is based on motion and the principle of the conservation of energy. The experiments were conducted by simulating the conversion of heat energy created by an explosion into kinetic energy that generates destruction to produce more realistic destruction effects.
1.3. Previous Research
This research is follow-up research of "A Study on Energy Transfer and Conversion in 3D Visual Effects" [9] published in the 'Korean Society of Cartoon and Animation Studies' in 2021, the basic concept of energy transfer and conversion in computer graphics presented in previous research was expanded, and experimental research was further subdivided and developed. In previous research, experiments were conducted centered on the Tornado effect through the relationship between fluid velocity and particle motion. However, experiments were conducted centered on the Explosion & Destruction effect through the density and temperature of fluid, and distance between particles in this research. In order to create a more realistic visual effects through effective interlocking of fluids and particles, the one experimental stage was expanded and developed into three stages. This research has great value as a follow-up research in that it minimizes the occurrence of errors and implements an efficient solution based on accurate data extracted through three sequential experimental process.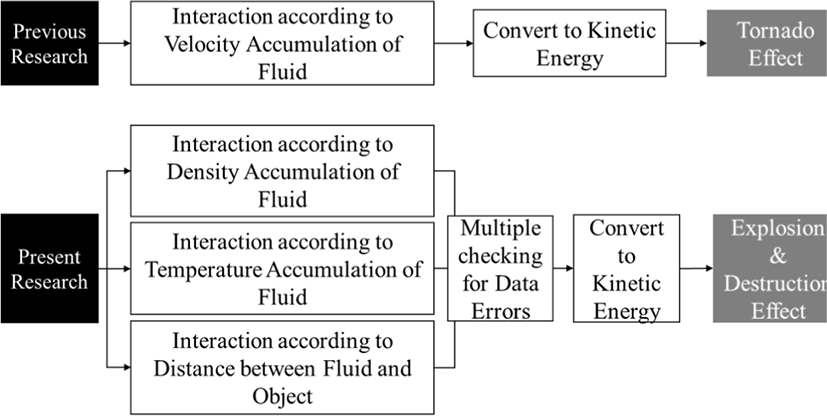 Download Original Figure
III. CONCLUSION
Producing complex explosion and destruction effects requires a high level of training and time because it requires separately simulating and then integrating them. Thus, in the present study, experiments were conducted to test methods of producing both effects simultaneously by combining explosion effects made through fluid simulations and destruction effects made through dynamics simulations. The experiments tested interlinking the explosion and destruction effects according to fluid density, fluid temperature, and the distance between the fluid and relevant objects. The results of the experiments showed that each of these methods can interlink the effects. In the present study, experiments were conducted to test methods for efficiently creating explosion and object destruction effects by interlinking them in fluid simulations. However, this study did not conduct experiments related to related effects, such as dust and the fluid's collision with the ground. As such, further research should be conducted to identify methods for interlinking these effects as well in order to develop an integrated visual effect production method.